Mesh gets a bad rep with images of sweaty gym pinnies and 80's raves but stylish ladies know that mesh is huge this season.  A part of spring's greater "sporty" trend, mesh can be mixed with non-athletic staples like structures blazers and leather pumps to create a work-appropriate and fashion-forward look.
Plus, mesh is ideal for layering. Don't believe me? Check out how street style blogger Song of Style wore the stuff (which landed her some Pinterest popularity. It turns out her exact mesh hoodie is on sale and just $29. Is it your lucky day, or what?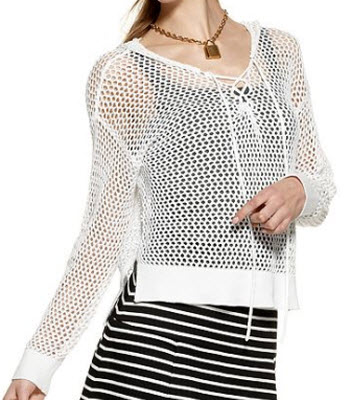 Bar III Front Row Sweater from Macy's ($29 down from $59)
A white mesh top over a fitted skirt is easy and comfortable. For a bolder move, try a neon skirt or keep it calm with something simple like black. Those bandeau skirts you just can't get enough of will get a makeover with mesh.
[Photo Credit: Song of Style]
Don't forget to shop the pin on other fabulous items like the DVF dress that is truly awesome, a gondola striped jacket made for this spring weather, and an inspirational floral and neon outfit