Black Friday is fast approaching, so many stores have already started releasing their deals for the day. As we've been diligently awaiting new updates, we came across this one from Old Navy – and we thought you'd want to know about it.
The store will be offering 50 percent off on all purchases from Wednesday, Nov. 22 through Friday, Nov. 24, with tons of styles for $10 or under. And if you're an Old Navy card member, you'll be able to take advantage of the Black Friday sales early when you use your credit card in store or online from Thursday, Nov. 16 to Sunday Nov. 19. 
But even if you're not part of this "elite" club, never fear. The store will be holding a Pre-Party Sale from Thursday, Nov. 16 through Tuesday, Nov. 21, where customers can get 40 percent off their entire purchase.
Because all this wasn't enough to get your heart pumping, the brand will also be offering a killer 72-hour Cyber Monday sale. On Saturday, Nov. 27 and Sunday, Nov. 28, you'll get 40 percent off your entire online purchase, while the deal gets even better on Monday with 50 percent off everything, no exclusions.
Ready to shop till you drop? We thought so! Below, we've rounded up our Old Navy favorite picks you'll find heavily reduced for Black Friday.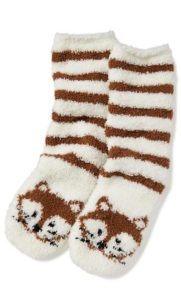 Chenille Cozy Socks for Women (originally $5, will be $1)
As part of their Cozy Sock One Dolla Holla sale, Old Navy will be offering these adorable Chenille socks for only $1 in store. Originally $5, the socks come in tons of different styles – like cute reindeer and checkered patterns – so naturally, you're going to want them all. To make the deal even sweeter, for every pair purchased, Old Navy will donate $1 to Boys & Girls Clubs up to $1 million. Talk about some fee-good stocking stuffers!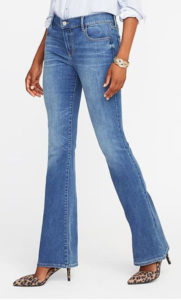 Mid-Rise Micro-Flare Jeans for Women (originally $34.99, now $22)
Flare jeans are totally in right now – probably because they look super flattering on everyone! The season's hottest look is currently only $15, and will be even cheaper on Black Friday.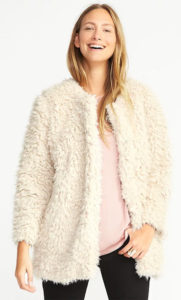 Faux-Fur Coat for Women (originally $69, now $49)
Of course, there's no better time to stock up on winter essentials. This stunning faux-fur coat will protect you against the cold all season long, while earning you some major style points along the way!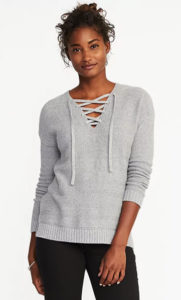 Lace-Up Textured Sweater for Women (originally $36.99, now $26 – $32)
And speaking of winter essentials, you can never have too many knit sweaters. We love this lace-up version, which features an intricate texture to add the eye-catching appeal.
Old Navy will have special hours both leading up to and on Black Friday. The store will be open Wednesday, Nov. 22 from 9 a.m to 10 p.m, Thanksgiving  from 3 p.m. to 1 a.m. and Black Friday from 5:00 a.m. to 10 p.m. Make sure to get your spot in line early so you can nab all your favorites before they sell out!
For even more information on amazing sales this year, check out Amazon's 2017 Black Friday deals and Target's 2017 Black Friday deals. And keep checking back here for even more updates on what you can expect to be discounted on the day!