I'm not what you would call a beauty junkie. Sure, I know my way around a makeup aisle and I'd never turn down free beauty products, but am I the woman waiting in line for the new hot palette everyone is buzzing about? No way. To be honest, most days I don't even wear makeup and when I do I usually only wear mascara and blush. I often experiment with whatever mascaras we get as samples here at the SHEfinds offices, but I've basically been wearing the same blush ever since I started wearing makeup.
That all changed, however, when I got the chance to try L'ORÉAL's new Visible Lift Blur Blush ($12.99). All I can say is, I am hooked. I loved the blush I was using previously–heck, I used it for something like 6 years–but my one complaint was always that it went on so sticky. On humid days, forget about it–my cheeks went from looking dewy and sunkissed to basically just greasy. That one issue is out the window with this new L'Oreal blush, though. When I say it goes on soft and lightweight, it really and truly feels like you have nothing on after you apply it. And just like my favorite cream blush from before, it gives that subtle lit from within quality without being clownish or super makeup-y.
Whether you're a beauty newbie or a diehard, you have to try this new blush and let me know what you think. I hope you love it as much as I do.
PS: Yes, that's actually me in the pic above wearing the blush in Soft Pink!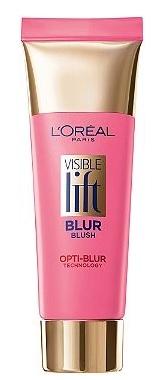 SHOP L'OREAL'S VISIBLE LIFT BLUR BLUSH NOW!
Be sure to check out our favorite fine jewelry designers, plus AHAVA's new body serum and the NARS anniversary collection.