One Diamond Isn't Enough: Splurge On David Yurman Pave Earrings, And Thank Us Later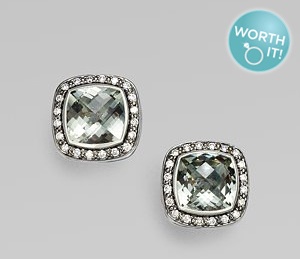 So we know you already got the ring–but would it be so wrong to ask for these David Yurman diamond, prasiolite & sterling silver earrings ($1,750) as the perfect complement to a gorgeous dress and engagement ring on your wedding day? This Worth It item has more than a half-carat of diamonds and the center stones are sparkling prasiolite. Not only will these be stunners on your big day – but they'll become a bit of a family heirloom.
Show off your shopping smarts with our guides to inexpensive wedding dresses, cheap wedding invitations and cheap bridesmaid dresses.