We've told you about the couture workout clothes trend (hello, Armani/Reebok exercise gear) and now we bring you a sports bra blinged out with Swarovski crystals – the Trenta bra by BodyRock ($1850). For the mere price of a 2-year gym membership – or an actual elliptical machine – you can get this black bra, complete with a removable charm necklace and hidden pocket. While I can totally see Madonna wearing it, and it probably looks really cute under a low-cut top, I'd rather make a few car payments instead.
Turn heads instead with these less expensive, but still somehow sexy sports bras:
The front zipper is more than just to hold you down, it also brings thoughts to your trainer's imagination. Grab the New Balance Profile Crop Top Sports Bra ($60) and you'll notice.
Run for hours in this Champion Double Dry Distance Underwire bra ($42). The low cut back will definitely have all eyes focused on you.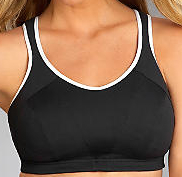 The Shock Absorber: Level 4 Max No Wire Sports bra ($60) is ideal for bustier girls with the firm control and comfortable microfiber. Even if you sweat, you'll still stay dry.
Shop more of our favorite sports bras and save money with our cheap workout gear. Subscribe now to receive exclusive fashion news.