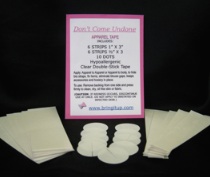 We always appreciate nifty new products that make our skin, hair, or clothes look even better. So, this Freebie Friday we're giving away some of our favorite fashion solutions from Bring It Up. The package includes nipple covers (for those slinky dresses that seem like they were made in a bra-free alternate reality), easy to use apparel tape to hold it all together, fashion stick cups for backless frocks, and so much more.
The winner will receive these useful products plus $5 off their next Bring It Up purchase. Enter now, you've only got one day left.
For some more undergarment solutions, shop our guides for the best in thongs, eco-friendly underwear, and spanx.