It can seem like your cabinet is stocked with a surplus of unnecessary skincare products. But when you find out how your toner effortlessly paves the way for your vitamin C serum to make your skin its most radiant, you'll be happy you invested more in skincare and less on shoes (seriously!).
The order in which you apply your skincare products is as important as the products themselves. The simplest way to maximize the efficacy of cleansers, toners, serums, moisturizers, eye creams, and sunscreen lotions is to follow a few simple steps when applying them each day. The same way you'd never put icing on cookie dough without baking it first, you shouldn't even think of moisturizing or layering on SPF until you've mastered the steps that come before it. Here is the correct order to apply your skincare products.
1) Cleanser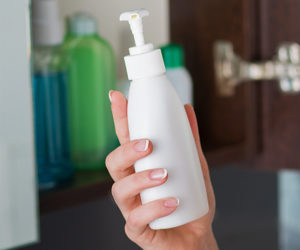 Your healthiest skin begins with clear, clean pores that are free of makeup and sebum, which clogs pores and leads to pimples, blackheads, and whiteheads. Use a gentle oil-based cleanser to remove all traces of makeup (the oil is a magnet for excess oil on your skin and, contrary to what you may have been told, won't make oily skin more greasy). This is a great time to break out exfoliating cleansers, especially if you suffer from dry, flaky skin. If you want, you can follow an oil cleanser with a water-based cleanser (otherwise known as the K-beauty double cleanse treatment) to give skin a thorough cleansing, but if you feel this isn't necessary, skip to step number two.
2) Toner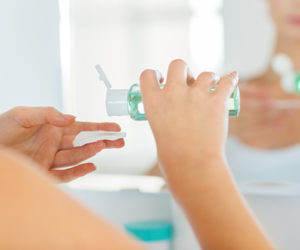 If your cleanser takes away even a hint of hydration from your face, toner can be used to balance your skin's natural oils and give it right back. A soothing, gentle toner made with ingredients like aloe vera can reduce redness in the skin, make pores appear tighter and more refined, and set the canvas (your lovely skin) for serums to penetrate deeper. Apply toner to a cotton square or spritz it right onto your skin.
3) Serum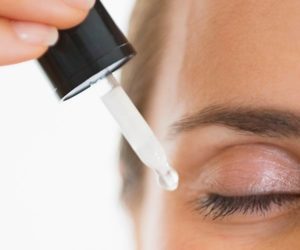 Most serums are made with small molecules that penetrate deep into the skin and can deliver highly effective ingredients like vitamin C, which destroys free radicals and brightens your complexion, wrinkle-fighting retinol (which should only be used at night), ceramides to strengthen your skin's natural barrier and soften skin, and a load of other antioxidants. Apply a few drops, which go a long way, after your skin absorbs the toner. If you need to add a pimple fighting product to your routine, apply it before serum and allow it to dry first.
4) Eye Cream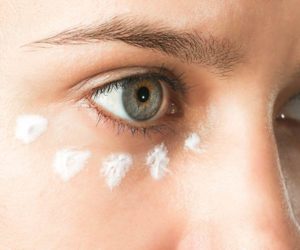 With regular use, an eye cream that contains ingredients like niacinamide, hyaluronic acid, caffeine, and peptides can smoothen the delicate skin around your eyes, prevent crow's feet, and even make those dark circles lighter. Using your ring finger, apply cream to the outer corners of your eye and dab lightly. Let it absorb fully before applying moisturizer.
5) Moisturizer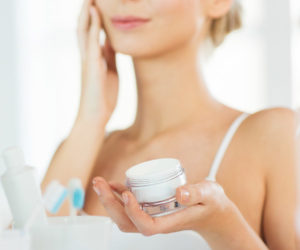 Regardless of your skin type, your complexion will benefit from moisturizer. A moisturizer for dry skin may contain ingredients like exfoliating lactic acid and hyaluronic acid and ceramides that lock in moisture. An example of an effective oily skin moisturizer is a lightweight gel that contains dimethicone to absorb oil and make skin look matte. No matter what your skin type, find a moisturizer that works for you and commit to using it every day for healthier skin.
6) Sunscreen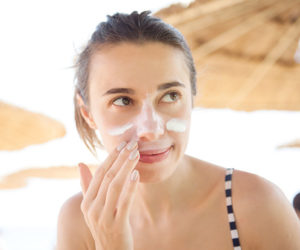 Rain or shine, sunscreen is probably the single most important skincare product you can use. Apply a layer of SPF 30 or higher at the tail end of your routine and wait at least 15 to 20 minutes before going outside.