Now that fall is just around the corner, you might notice some changes to your hair, skin, and even your nails! We've all felt it before: our skin starts to get dry, hair begins to lack in luster, and nails feel brittle and weak. No amount of lotion, expensive manicures and conditioners can solve these problems by themselves, and many of these tactics can actually contain harsh chemicals that will only cause more damage to you.
So, it's time to go all-natural! And no, I don't mean letting nature take it's coarse and doing absolutely nothing to your hair, skin and nails, because that would only make things worse. Try using organic, all-natural products instead. They contain little to no chemicals, additives, and toxins that can could cause more damage to your body, and they'll have you feeling vibrant and refreshed in no time.
Don't know where to start? Try using this amazing doctor-approved product: biotin supplements!
Biotin has been preached among the beauty and health communities for decades, and for good reason. Basically, biotin is a B-vitamin that assists with keratin production, a protein in your body that helps strengthen your hair, skin and nails. It's benefits have been proven time and time again by doctors and beauty gurus around the globe.
Renowned doctor, Dr. Josh Axe, noted a few of the giant list of benefits this vitamin can have not only for your beauty but for your body as a whole. "According to studies, taking high doses of biotin can help treat weak hair and nails," he wrote. "In fact, this benefit of vitamin B7 biotic was first discovered when horses were effectively treated with biotin to correct problems with the horses' hoofs becoming brittle and cracked."
"Vitamin B7 biotin can also help to protect skin from acne, fungal infections, rashes and severe dryness and cracking." On top of all of these amazing beauty benefits, biotin can also help speed up your metabolism, balance your blood sugar, regulate your cardiovascular system, and repair tissue and muscle, according to Dr. Axe. It's amazing how one natural supplement can have all of these amazing benefits for your body!
So, if you have dry, brittle hair and nails, or your if your skin has seen better days, you could be suffering from a biotin deficiency. According to Dr. Axe, symptoms of biotin deficiency include:
thinning, splitting and brittle hair
dry and irritated skin
brittle and weak nails
To avoid all of these problems, it's recommended to make sure you get a daily dose of biotin every day. Remember, your saving your hair, skin and nails big time by making sure you incorporate biotin into your diet!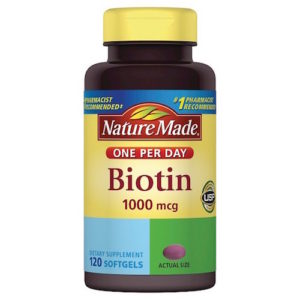 Nature Made Biotin 120 count ($10.99)
If pricing is a concern for you, don't sweat it! Biotin supplements are actually very affordable, with price-points going as low as $10. So, you better stock up on this miracle pill before it's too late. Kick dry, brittle, and damaged hair, skin and nails to the curb with biotin and feel like a healthier and happier you in no time!