January 1: Happy New Year!  Time to start making those  New Year's Resolutions. Take a look back at the year in fashion in our Top 9 of 2009 Countdown, and then browse through our guide to cheap workout gear.
January 3: DKNY's Limited Edition Delicious Candy Apples fragrance collection is released today at Sephora.
January 4: Trade in your unwanted gift cards for stuff you really want at Plastic Jungle.
January 6: Lady Gaga will appear on Bravo's Launch My Line tonight, where contestants will use her eccentric style as inspiration.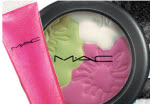 January 7: MAC in Lillyland, Lily Pulitzer's new bright, cool makeup collaboration with MAC is available today at Sephora.
January 14: Season 7 of Project Runway airs tonight on Lifetime. See if they can make it work this season, as the cast returns to New York.
January 17: Watch the 67th Annual Golden Globe Awards tonight on NBC at 8pm EST, and the Fashion Pre-Show at 7pm EST.
January 18: Joan Rivers is back on E! as host of Fashion Police: The 67th Annual Fashion Awards. Watch as she praises (and tears apart) the dresses worn on the red carpet with Khloe Kardashian, Jay Manuel and Guiliana Rancic.
January 23: The 16th Annual SAG Awards air live tonight on TNT and TBS at 8pm EST.
January 26: Charlotte Gainsbourg, daughter of style icon Jane Birkin and musician Serge Gainsbourg drops her newest album, IRM, today.
January 27: With less than a month until Vancouver's 2010 Winter Olympics, get some clothes from Ralph Lauren's Winter Olympics Collection.
Check out our guide to the best online sample sales every day of the year.