Everything that Oprah touches turns to gold, so the fact that Chicago's gearing up for the opening of The Oprah Store, isn't really surprising. The store will only include Oprah memorabilia, that you can get here, but wouldn't it be cool if you could shop all of Oprah's favorite things in one place? We're making it easier for you with our roundup of Oprah endorsed products that we love, too. Oprah store, take note:
CJ by Cookie Johnson Jeans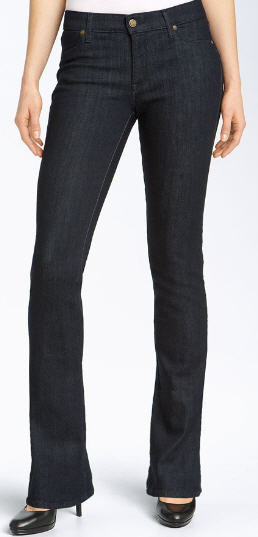 Oprah loves CJ by Cookie Johnson jeans. These CJ by Cookie Johnson 'Beautiful' Bootcut Jeans ($115) have magical slimming properties, but are super comfortable, too. They recently launched in plus sizes, and they just released a white trouser jean that we want to wear all summer long.
J. Crew Julienne Leather Heels
When J.Crew's Creative Director Jenna Lyons appeared on Oprah, the talk show host blabbed about how much she loved her J.Crew Julienne Leather Heels ($198). The shoes are comfortable and have a great architectural detail.
Uggs
Oprah is all about comfort, and whether Uggs are a fashion faux pas or not, she wears them religiously. For a summer option, these Ugg Australia Marema Cork Flip Flops ($80) are pretty cute.
Carol's Daughter
Oprah swears by Carol's Daughter beauty products (so do Mary J. Blige and Jada Pinkett), and we understand why. They smell delicious and they work. Try out this Carol's Daughter Mini Manicure and Cuticle Oil Hand Care Kit ($21) to see what the big deal is.
Stay up-to-date by checking out our news section, and then check out our guides to the best bras, the best underwear, and the best cheap underwear.