Who needs Barbie dolls when you've got an iPad and a digital makeover mirror? That's right. Say sayonara to the days of chopping off Barbie's hair then cruising her around in that hot pink convertible (do they make adult size?), because she's officially gone digital. Mattel just announced the launch of a Barbie Digital Mirror at the International Toy Fair last week, and our eyes lit up like it was Christmas morning, circa 1988. The mirror will be paired up with an iPad that mimics a vanity, allowing kids people of any age to virtually try on makeup without making a huge mess: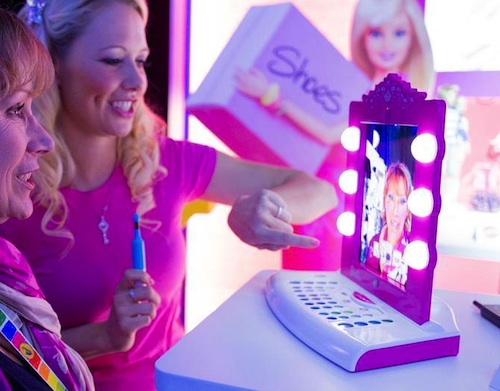 The Mattel Barbie Digital Makeover Mirror ($69.99) will make it's debut in August 2013. And remember kids, sharing means caring….
For more make up, check out Superdry's new line of beauty products, Topshop's peel-off nail polish, and Butter London's lip gloss and nail duo.
[Photo: Mattel]