We've always been jealous of people who could drop everything and get their beauty sleep. Our resolution to sleep more in 2010 has already fallen by the wayside now that the holidays are over–so we hunted down the top 5 beauty products to fake a full night's sleep. If you're like us, try these quick and simple solutions to fix tired eyes that haven't gotten a cool 8 hours:
After a long night or partying (or tossing and turning) just reach for this Cooling Eye Mask ($26)–it lessens the puff factor on your face, and the coolness actually helps wake you up, too. We love multi-tasking beauty products.
Follow up with a soothing eye cream that works double duty on your circles and bags, like Skyn Iceland Icelandic Relief Eye Cream (starting at $20), which isn't greasy so you can apply your makeup right over it.
Widen your eyes by applying a brightening liner to the inner-most corners of the eyes;  Almay Bright Eyes Liner/Highlighter Duo ($6) or Benefit's Eye Bright stick, below ($20) will do the job, too, and is compact enough to carry with you if you need a touch-up later.
Finish the look with a glow-inducing face primer (try Benefit's "That Gal", $28), which works on all skin types, magically brightening. Follow with mascara, and a touch of blush–and you're ready to roll.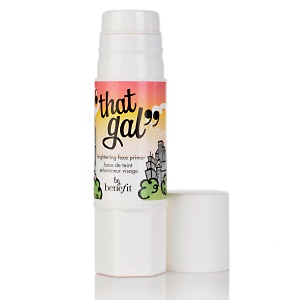 For more makeup tips and tricks, see our Beauty buying guides for the Best Eye Creams and the Best Concealers.