Mercedes-Benz New York Fashion Week was kicked off with some bad news today: award-winning British designer and icon Alexander McQueen was found dead in his London apartment.  His style sense trended towards the avant garde, and his  pieces translated to unique, rebellious, and the epitome of cool. In a tribute to the design guru, here are some of his high-end designs that are likely to be snapped up quickly by fashionistas as collectors' items:
Known for his impeccable scarves, we're loving these two: a Lip-Print Silk-Chiffon Scarf ($315), and the other with his signature skulls ($384).
I've had my eye on this stunning, graphic Lace-Embroidered Satin Dress ($5295) in high-contrast black and yellow for quite some time, but this pretty Ruffle-Front Georgette Dress ($435) while still expensive, is more affordable, (relatively speaking) for gals who want a piece of the legend.
From his wild accessories collection, skulls are the item du jour, from this edgy Skull Pendant Necklace ($350) to a Skull Bracelet ($334).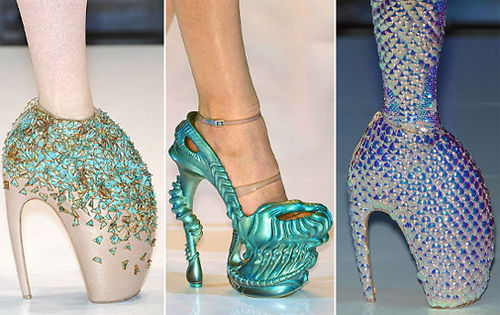 Above are McQueen's wildly artistic Spring 2010 shoe creations.
Here, you have whimsical rocker-chic Grommet Booties ($842) and a toned-down pair of elegant Patent Leather Pumps ($408) we'd be glad to wear anytime.