There's a proliferation of legging-ish garments parading as pants this fall, but frankly, at this point, that's to be expected. And there are plenty of ways to make them look pretty and presentable. However, Racked drew our attention to a more disturbing phenomenon yesterday: not-pants parading as pants.
So we thought we'd issue a pants PSA: The items on the left are pants. The ones on the right are not. Discuss.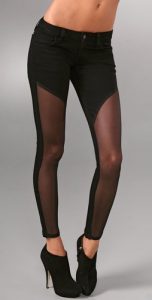 Pants: Black skinny jeans ($154) – sleek, simple, and they cover your legs.
Not pants: Black skinny jeans with mesh inserts that go higher than any respectable miniskirt ($242). We're cold just looking at them.
Pants: DVF pleat-front trousers ($285) – admittedly a tougher shape to pull off, but with heels and a slim-fitting top, we're behind it.
Not pants: "Trousers" ($50) with horizontal stripes, a foldover waistband, and an adult-diaper cut. Made of viscose. These are pajamas, people. They're for wearing to bed.
Pants: Very slim cropped wool trousers ($168), with a cheeky little zipper at the ankle; rebel against corporate trousers in an HR-friendly way.
Not pants: Polyurethane leggings ($895) with cutouts all the way up to and including the crotch. It's these or the rent. And these won't keep the rain out.