With all of the fashion buzz about Madonna's clothing lines, we were shocked to see this. We get it, she's staying behind the camera. But it does not excuse this get-up. Between the leather jacket in August, the nerdy glasses, messy hair and the 2002 Sk8er Boi knee high argyle sock, we're convinced this 'Material Girl' didn't have a mirror handy when she left the house.
Here's what we think she should have done (other than stayed home):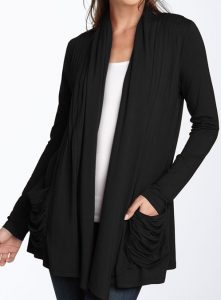 First of all, it's about 70 degrees in London right now – just looking at leather we're sweating. So please Madonna, swap it out for a light draped cardigan. This Kenneth Cole Drape Cardigan ($79) even has pockets to store little necessities.
Madonna looks like she's about to choke so we recommend this Madewell Floral Border Scarf ($52). It won't get tangled in her director's gear and she can bring it with her, if she took a holiday to some Isla Bonita.
Adidas rip-off sweat pants had their last hurrah about 10 years ago. Instead, a pair of super soft yoga pants like these So Low Foldover Jersey Pants ($64) will work. She can even adjust how high or low the waistband sits.
Madonna should have opted for a more girly sneakers – rather than that manly unisex pair. The Lacoste Shua Velcro Strap Sneakers ($65.99, down from $110) eliminate tripping over laces, too.
Don't be a fashion faux-paux, read all of our Red Carpet Re-Dos. Shop our guides to the best cardigans and the best cool sneakers. Sign up for exclusive fashion updates.