We spotted an 'eye catching' trend (pun intended) at the Chanel ready to wear show in Paris last week, and have been completely and utterly #obsessed since then. Could sequin eyelids be the new statement eyeshadow for fall 2013. We sure hope so. Call us crazy, but we can't wait to bejewel out our very own lids.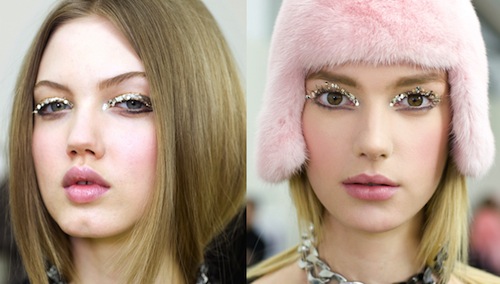 We were able to track Peter Philips, Chanel's Creative Director and makeup artist, to see what his blinged-out secret was. The trick? Super simple: he used platinum sequins like an eyeliner on the eyelids, and placed randm bits on the upper lashes as well. Check out our tips below to get the look now:
Step 1: Apply your eyeliner and mascara like you'd normally do. Philips used Chanel Volume Mascara in Noir ($30) and Chanel Precision Eye Definer in Black ($29) on the models, which just so happen to be two of our favorites too.
Step 2: Use an eyelash glue like Sephora Individual Eyelash Adhesive ($8) to line the lids just like you would with an eyeliner pencil, as well as on your top eyelashes in spots were you'd prefer to have sequins.
Step 3: Apply the sequins to your eyelids and lashes, and let dry. We suggest using craft sequins such as 5mm Silver Sequins ($1.99/pack), and cutting them in half to get a similar look.
And if you're not ready to glue sequins to your face yet, we found these amazing Make Up For Ever Artemis Black Crystal Eyelashes ($16) that will do the trick in a more low key kind of way: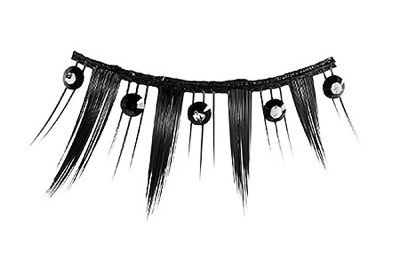 Love or hate? Personally, we heart it and can't wait to recreate this gorgeous look at home. It's the perfect accessory for any LBD!
For more awesome beauty finds, check out Estee Lauder x Mad Men, the brow powder trend, and the craziest nail art from NYFW.
[Photo: Vincent Lappartient for Chanel]