In the past, I always turned to eyelash extensions when I wanted my lashes to look like falsies (i.e longer and more voluminous). But to be honest, no matter how great the salon or the extensions, they always end up ruining my natural lashes. Sure, it's a quick-fix, but extensions don't actually help long-term and I'm not going to lie, they're quite expensive to keep up with.
That's why I decided to say goodbye to extensions, false lashes, lifts, tints, you name it. I quit them all cold turkey so that I could focus on making my own lashes stronger and healthier. Don't get me wrong–this doesn't mean I'm giving up on the look of longer and thicker lashes, I'm just so over the damaging part.
To improve the appearance of my natural lashes in a way that will actually stand the test of time I turned to Peter Thomas Roth's Lashes To Die For Turbo Conditioning Lash Enhancer.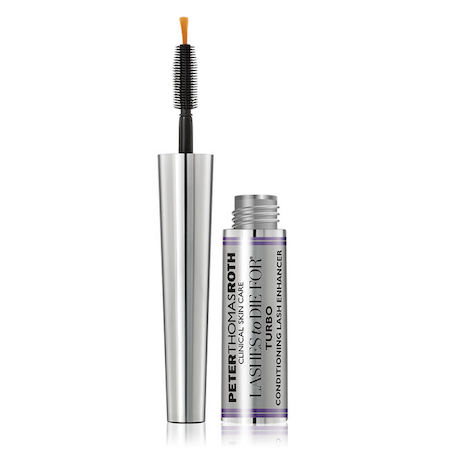 This brand new, super-effective formula is a combination of a potent 11% Peptide Complex and Biotin to help visibly improve the look of natural lash length, thickness, density and fullness. And that's not all! It also contains a 10% Conditioning Complex that softens so lashes don't look dry or brittle. Vitamins A, C and E provide them with nutrients and antioxidants.
My favorite part? It's super easy to use thanks to the dual applicator brush. First, apply a thin line of product along the lash line using the precision tip. Then, use the part of the brush that looks like a mascara wand to spread the product evenly from the roots to the ends, just like if you were applying mascara! Use this once a night before you go to bed, and trust me, you will definitely notice a difference.
Hesitant to put product this close to your eye? No worries, I was a little bit myself, but once I saw the below facts it reassured me that I would be completely fine… and I was!
– Ophthalmologist-tested

– Dermatologist-tested

– Safe for contact lens wearers

– Suitable for sensitive eyes
If you've been looking for the same longer and thicker-looking results I was while making sure your natural lashes stay healthy, this product is absolutely a must-try.
SHOP PETER THOMAS ROTH'S LASH ENHANCER NOW
SheFinds receives commissions for purchases made through the links in this post.
The editors at SheFinds wrote this post on behalf of Peter Thomas Roth and received compensation as part of our agreement.