Fragrances are so much more than just pretty smells. They add extra character to a person and complete their personality. I truly love fragrances and I get bored easily with smells so I'm always on the prowl for my next obsession. Currently, I'm obsessing over philosophy's new fragrance collection called my philosophy that encompasses six different fragrances. The best part? There's a fragrance for every personality.
The new collection features fragrances called expressive, compassionate, empowered, grateful, truthful and giving. They are each designed to be worn alone or layered together to create a unique scent. Whether you wear one or two (or three!) scents, you'll be making a personal statement wherever you go.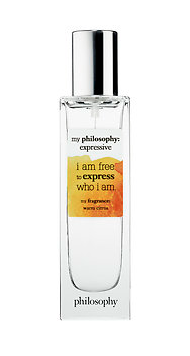 my philosophy: expressive ($40)
Out of the entire collection, my favorite is expressive. It's described as a warm citrus that associates the feeling of optimism and happiness. I highly recommend checking out this collection and finding your own philosophy!
Don't miss the most stylish iPhone 6S cases and 6 things you should never store in your bathroom medicine cabinet!
[Photo: philosophy]