Over the weekend, our favorite diva was spotted shopping at one of our favorite stores: Target. Beyonce was out and about in Houston, a stop on her Mrs. Carter World Tour. Aside from the huge bodyguard flanking her side, Bey looked liked a regular gal as she perused Target's accessories department. A superstar like Beyonce could have easily requested to shop at Target after hours (or sent an assistant). But we guess Beyonce prefers to shop for cowboy hats the old fashion way. According to this fan, Beyonce was also buying Pepsi (um, doesn't she get like a lifetime supply of that or something?) and hula-hooping in the toy aisle. It's nice to know we aren't the only ones that who get suckered into buying useless crap at Target.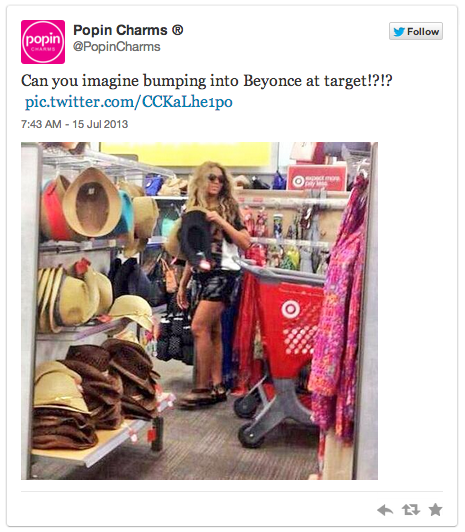 Can you imagine bumping into Beyonce at target!?!? pic.twitter.com/CCKaLhe1po

— Popin Charms ® (@PopinCharms) July 15, 2013
And in case you didn't know, Target has cute clothing and accessories on sale all the time. Seriously, it's one of our favorite places to shop. Check out their selection here.