This was one of the first pics of Nori, and it's what made us fall in love with her.
Looks like Kim's new stylist gets some time with North too.
There's nothing cuter than a happy baby.
Can you guess who's hands little North is holding? Apparently it was a girls' day.
Nori doesn't look too happy to be with this man (we have no idea who he is).
It was this photo that made us realize that Kim and Kanye made a pretty adorable baby.
We can't wait for the day that Kim puts Nori in wedge sneakers.
Kim better Instagram a pic of Nori in one of these Stella McCartney outfits.
Charlotte Olympia, can you send us free flats too? Ok, thanks.
No baby needs Hermés clothes, even North West.
We wonder how long it took Kim to get Nori to hold her ring?
This is the first pic we've seen where Kanye actually looks like a happy father.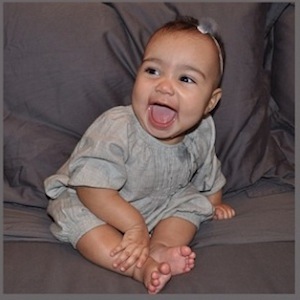 Kim, you can Instagram photos of Nori anytime. They're just amazing.
Thoughts on the bow? We're not too sure how we feel about it.
Just. Too. Cute.
...and if this hasn't brightened your day, then you clearly don't have a soul.
Sorry Kourtney, but Kim had a way cuter kid.