Pedicures, iPads, and Rebecca Minkoff. All in all, a great Monday.
After writing about Rebecca Minkoff's new line of tech accessories for eBay Fashion Vault yesterday, I was curious to see the line in person. Luckily, I got a chance to preview the collection during last night's launch party at Tribeca's TenOverTen salon. Check the photos from the event (plus a review of that gorgeous studded cell phone cover) after the jump: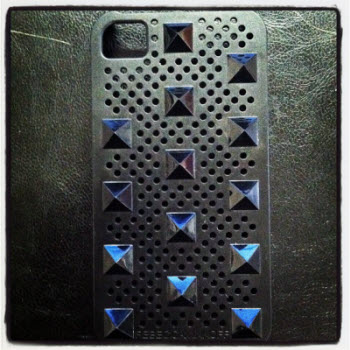 My Rebecca Minkoff @ eBay Stud iPhone Case
So here's the scoop: while getting a (MUCH-needed) pedicure, I got to play with one of the studded iPad envelope cases. Priced at $220, they're a bit of an investment, but the sleek black leather and gold studs are bound to remain timeless. Plus, the case is a lot less bulky than a lot of the iPad cases on the market, so it won't take up much extra room in your purse.
The item I was most excited to see in person was undoubtedly Rebecca Minkoff's $28 studded iPhone case (pictured above). Granted, it's currently on my phone and will stay there relatively indefinitely, but it's important to note that the resin studs are actually rather pointy—I'm honestly not sure if it would make it through airport security. At least it looks cool, though (pain is beauty, right?!).
Check out the photos that our Associate Web Designer, Katie, took of myself, Rebecca, and our pedis at the event below:
Be sure to stay on top of all of our Rebecca Minkoff and eBay Fashion Vault news by signing up for our newsletter.