Senior Editor Justine Schwartz got her Leather Sleeves Lapel Zipper Windbreaker ($55.99 down from $159.49) on a website called That's Point. She says, " I'd never heard of the site before -- and I'm not sure why this awesome coat is marked down 60% -- so this is either going to be my best purchase of the season or my worst. Wish me luck!" We're rooting for ya JS!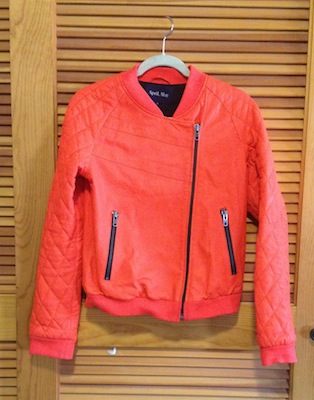 Marketing Director Julie Fabricant wanted to try something new, so she went for a orange leather jacket. She says "Leather jackets wear so well into deep fall, and since I already own standard black and brown versions, why not try something bright?" And orange IS the new black, so Julie's right on-trend with her pick. Unfortunately her April, May jacket is sold out, but here's something similar: Selected Quilt Leather Jacket in Orange ($320.64)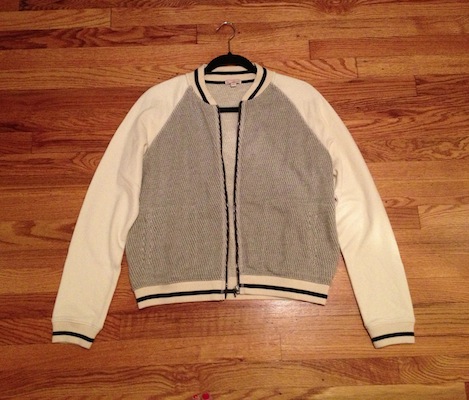 Editorial Assistant
Sara Alderman
 happened to be shopping one Friday afternoon and stumbled upon a 30% off sale at
The Gap
. "I'd been looking for a letterman and bomber jacket for fall, so I couldn't resist this combo. Plus I love that it's white, so unexpected!"
Textual Bomber Jacket
(54.95)
Marketing Coordinator Daniella Shevel also did her shopping early, and got her jacket on sale! Why she couldn't resist the deal? "It's very classy and can be dressed up or down, so it's very versatile and thought it would be great to wear out to din or just throw over a shirt with jeans. The sliver trimming detail is my fave!" No surprise her Sandro jacket is sold out, but here's something similar: Tory Burch 'Rosemary' Crop Tweed Jacket ($575)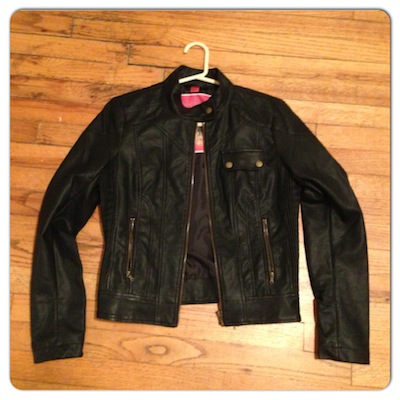 Editorial Intern Erica Murphy just graduated college and moved to NYC. She wanted to upgrade her "fracket" (frat-jacket) now that she's all grown up and stuff, so she went with this sleek Faux Leather Zip Front Jacket ($39.99)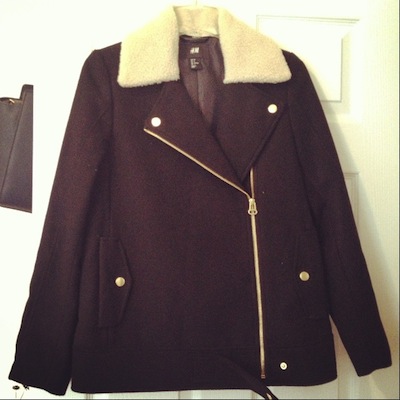 Our Editorial Director Jeanine Edwards can work an H&M store like no other. She always finds things in there that no one else can. Her latest purchase? This Biker Jacket ($59.95) that we know she can't wait to start wearing.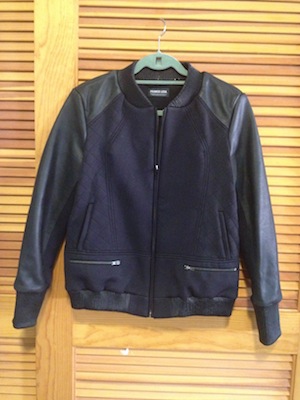 Julie used to live in her field hockey varsity jackets, so she's "psyched that a more sophisticated version has popped up this season". Julie must have done her shopping early, because this one is sold out too! But you can get a similar version here and re-live your high school sports days too: Neoprene Bomber Jacket ($136)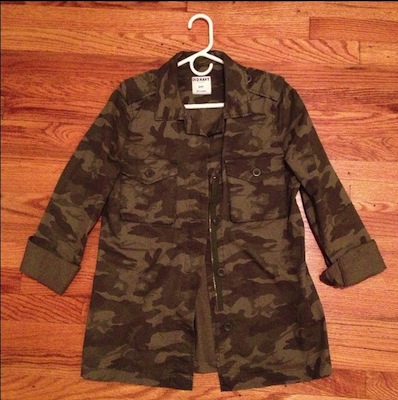 Sara
is all about the camouflage trend for fall, but wanted to get something that wouldn't go out of style. We can't think of a better pick than this
Twill Military-Style Shirt Jacket
($36.94)
Daniella nabbed this black and white leather jacket on sale (duh) from Scoop NYC. She says, "The leather is so soft and it's one of those jackets you wear over and over and thought the white leather detail made it extra special". For a black and white leather jacket that's as special as Daniella's try: Members Only Vegan Leather Colorblock Moto Jacket ($49.99, down from $129)