The 3.1 Phillip Lim for NARS collection launch is just 22 days away and we couldn't be more excited. We've actually been waiting for this moment since we first saw the collection at Phillip Lim's Fall 2014 runway show. But thanks to NARS, we were able to test it out early. So while you're all sitting around with unpainted nails waiting for July 15th (aka. the best day ever), here's a quick review.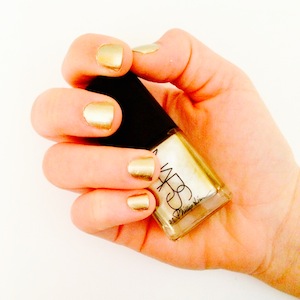 3.1 Phillip Lim x NARS 'Gold Viper' 
The collection has 9 limited edition shades inspired by "colors that exist in the shadows." Each color also has a mysterious name, including Anarchy, Gold Viper, Shutter, Wrong Turn, Otherside, Crossroads, Hell-Bent, Dark Room, and Insidious, which makes the collab ten times cooler.
Last week, we were able to test out the collection before anyone else and we can assure you that it is even better than we imagined. I tried Gold Viper and Insidious, and they are two of the best polishes I have ever used. Aside from being super easy to apply, these polishes dry quicker than any others I have ever tried, which is a major plus. If you're a busy girl like me and just can't take the time to apply nail polish perfectly or wait an hour for her nails to dry, this polish is for you! Not to mention, the colors these colors are to die for.
You can officially get your hands on one of these polishes ($20 for one or $80 for the whole set) at a NARS store or narscosmetics.com starting July 15 or at Sephora and your fave department stores like Nordstrom on August 1. Until then, have fun admiring the collection here or shop for other NARS beauty products. Don't worry, we'll update you when it arrives!
For more beauty products, check out: Net-A-Porter's summer kit, hair detanglers, and Urban Decay makeup setting spray.
[Photos: NARS]