When Karl Lagerfeld introduced the idea of a new inexpensive collection, we wanted it. And when the line comes out in Fall 2011, we can get it – with the click of a mouse. That's right, Karl Lagerfeld, Chanel creative director, is spreading his new "masstige ready to wear line" into the e-commerce world. And luckily for us, the collection contains mainly women's clothing. If you can't wait check out the Karl Lagerfeld sample sale going on now at Editor's Closet or shop these fabulous Lagerfeld finds:
This K Karl Lagerfeld Kim S Blouse ($76, down from $190) flatters any figure with the cinched waist. Pair it with a black blazer and skinny jeans for every occasion.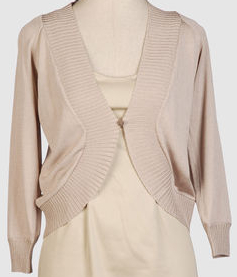 Since cardigans are so in style, try this one by Karl Lagerfeld ($215, down from $395). The nude color is ideal for any season and it has plenty of room in case you opt for that extra cookie.
It might cost a bit much for just a basic, but this Karl Lagerfeld Silk Long Sleeved T-Shirt ($225) is worth every penny. It's perfect for work or a fancy dinner and it won't cling to you.
Don't miss a minute in the fashion world – read all of our news posts. Shop our guides to the best cardigans and the best v-neck sweaters. Sign up for SHEFindsMail for exclusive style e-mails.