I don't know how it happens, but it happens every. single. time. No matter how hard I try, I am always in a rush to get out the door – whether it be for work in the morning or to meet friends on Saturday night.
The people at Benefit must know someone like me, because their new Fine One One ($30)—available for pre-order on Birchbox today—is the perfect time-saver for us gals who are consistently running late. The cream to powder stick acts as a highlighter-blush and goes on in just one stroke. Plus, its soft pink hue lets it double as a subtle lip color. Easy peasy.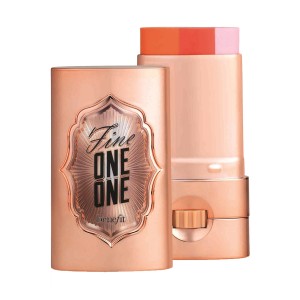 Just wait for the look on your friends' faces when you beat them to brunch this weekend! Check out Birchbox's exclusive first look at the triple-duty product here.
At a loss for which other makeup brands and products to use? Check out our beauty buying guide for the best and brightest on the market. And find out when those products need to be replaced here.