Friday is a good day to buy yourself a gift. Maybe not an all-in, blow-the-week's-paycheck gift…maybe just something that mimics real bling. These precious polishes are the perfect stand-in: Splurge on the set, and wear a different one every day this weekend.
Steel-ing the Scene by Essie ($7) is a dark silvery-gray color that – even though, we know, pale winter toes aren't the ideal state of affairs – looks pretty good on pale winter toes.
A great shade if you've only got ten minutes to self-manicure, Lippmann Collection Nail Color in Diamonds and Pearls ($15) is tough to make look messy. A sheer, shiny topcoat-like polish flecked with iridescent bits of sparkle, it's a glamorous but low-maintenance alternative to naked nails.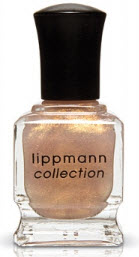 Buy Me a Cameo by Essie ($8) has been my standard vacation shade since I've been getting pre-vacation pedicures; it looks equally chic with floaty florals and severe stilettos, on tanned and on woefully un-tanned skin.