The weather is starting to break, and although you can store away the hats and gloves, a lightweight scarf is the perfect accessory to wear into spring. I love scarves because they're practical for transitional weather, when you want to ditch the tights and boots and put on a pair of flat shoes and jeans.
Nicole Richie's white t-shirt and tattered jeans would be pretty boring if she didn't have a red scarf to spruce up the look, and Jessica Biel's knotted silk scarf ups the style quotient on her leather jacket and maxi dress. And if you just want to add color or pattern to an outfit, you can wear your scarf a la Katie Holmes. Here are our five favorite scarves that you can wear now and into spring.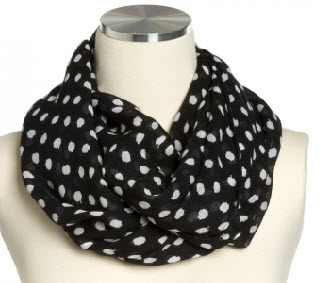 1. The infinity scarf was a big hit this past winter, and this Limited Polka Dot Infinity Scarf ($29.50) is a lightweight option that will work for the office or the weekend.
2. Vibrant colors are in for spring, and this J.Crew Refined silk cashmere scarf ($60) will easily incorporate the trend into your wardrobe.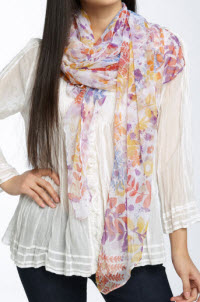 3. The print on this Collection XIIX 'Floral Day' Scarf ($38) might be intimidating to wear on a dress or blouse, but this scarf works for all style types.
4. This Love Quotes Pastel Italian Linen Scarf ($90) is a celebrity favorite–Nicole Richie is wearing it in the pic above–and the large size means it can second as a shawl.
5. I love the purple fringe and print on this Madewell Mosaic Square Scarf with Fringe ($52). A square shaped scarf is great for beach vacays when you want to cover your humid stricken hair.
See our guide to celebrity scarves, then check out the best celebrity denim and the best celebrity sunglasses.