In the last challenge before Bryant Park, the remaining five designers took a trip to the Getty Museum in Los Angeles where they had to find inspiration for their final designs.
Irina used a painting of Rubeneque goddesses to create her flowing Grecian-style dress. The back detail was pretty, but Nina thought the length and accessories were dowdy. Still, she's headed to the show.
Carol Hannah's 17th-century French bed-inspired gown was a hit for its impeccable construction, but judges didn't see the connection. However, her consistency was enough to get her down the runway.
Judges uniformly agreed that Althea's architectural design was more than she could handle. Heidi called it a mess. However, her willingness to take risks got Althea a ticket to BP.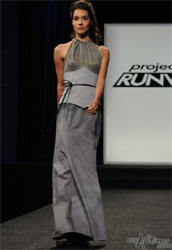 Christopher was inspired by a rock fountain covered with algae. He stood behind his choices, but judges couldn't get over his gap in design knowledge, and sent him packing.
Monet's Rouen cathedral brought Gordana to tears, and she turned it into her own masterpiece: a beautiful strapless silk organza gown. Cindy Crawford said she'd wear it, but judges thought it was too safe.
Gordana's gown drew raves (even though she won't show at Bryant Park).  We liked the similarly pretty Adrianna Papell Strapless Ombre Silk Gown, which also uses a graduated color scheme. In addition, the waist and bust rhinestone details add some definition to the flowy silhouette. And while she didn't get the same reviews, Irina's cold shoulder sleeves are hot for fall. This INC Drop Waist Cold Shoulder top has elbow-length cutout flutter sleeves and a belt that gives shape without being tight.