In episode four, Project Runway contestants got right down to business. The challenge: It's Models' Night Out. Designers were on their own again, and had to design an outfit for their models to wear at an industry event that would allow them to stand out and make a statement.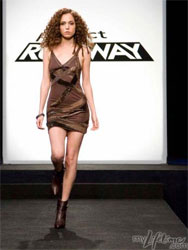 The hardest part for most designers was meshing their models' tastes with their own design aesthetics. Epperson, coming off a bottom-two appearance from last week, faced a big challenge with his model, who wanted something elegant and punk, with an animal print (?!).  But Epp pulled off a dress that showed his sewing skills and eye for detail, impressing guest judges Marc Bouwer (sitting in for Kors) and celeb stylist Jennifer Rade. Marie Claire editor-in-chief Zoe Glassner, a chattier, more approachable version of Nina Garcia, was also loving the zebra-inspired mini.
However, Logan didn't fare as well. His model had an equally challenging request for 50s and lace–a little rock and roll look with an evening aesthetic. The result was confusing, as was the styling, which Heidi described as "prom-inspired." Still, his risk taking saved him, whereas Qristyl's "safe" black dress sunk her. Heidi said the dress aged her model, and models age in dog years in this industry. Ouch!
There were a couple favorites on the panel – including Carol Hannah's asymmetrical tank dress with applique skirt – but Althea's three-piece-suit-inspired evening look wowed everyone. Jennifer wanted to take the outfit after the show for one of her clients.
One thing that judges liked about Althea's design was that the separates can be worn together, or mixed into the wardrobe. The stretch wool Ediona Blazer ($385) from Theory can literally go from work to dinner over Banana Republic's fitted Pima cotton tank ($20), which in dark gray is the color essential of the season. And although the weather's turning chillier, the black  stretch silk Butterfly Short Shorts ($187) by Alice + Olivia will be cute into the fall, and even next spring.
If you need to play Project Runway catch-up, be sure to check out our past show coverage.  And for more Althea-esque separates, see our guides to blazers and evening tops for jeans.