Models of the Runway, step aside. This week, designers had divorcees (some recent, some not so much) who were looking to turn their old gowns into hot, new memories.
Shirin complained from the outset because her model's dress was the simplest and had the least amount of fabric to work with. Oh, and her client wanted something Cher-inspired. Shirin's solution: ignore her client and create an original stitched design.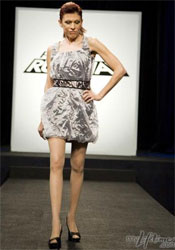 Christopher felt more confident with his actress divorcee, and created a silver organza overlay with a cinched belt. Kors described it as a space trash bag.
But Christopher got a pass since Logan and Epperson decided to go with "Oktoberfest" looks. Logan went with wool pants (why?!) and a strange-fitting ruffled vest.  Epp had a rough start, but turned it around for a kimono-sleeved dress with fitted waistline. His client loved it, but the judges did not. Auf wiedersehen.
Divorced designer Gordana took this challenge to heart, and created a fashionable but edgy cocktail dress from the lining of her client's original. Gordana gave her model a new outfit, and the dress a new reason to leave the closet.
For something similarly flirty and sassy, Banana Republic's asymmetrical tiered mini dress has a short, sexy length and pretty kimono sleeves to add some softness. The sugar plum color is also a nice variation on the traditional LBD.  But black doesn't have to mean boring. This Ann Taylor chiffon and grosgrain strapless layered dress has sleek, waist-enhancing ruffles and even a shelf bra to avoid potential bulges.
Get more of the look with the best cocktail dresses, sheath dresses, and wrap dresses.