When the show moved to LA for Lifetime, the only real, noticeable difference was the swap of New York's steel backdrop for golden California scenery. So, it was only a matter of time before Project Runway took advantage of the left coast's legendary beach culture. Witness: episode 3's surfwear challenge.
Designers had to work in pairs to design a "fun and fashionable surfwear look," with one team member acting as the team leader. Even before Tim threw in the prerequisite Surprise! element–an avant garde outfit in addition to the first look–at least half of the design teams were on the rocks.
One of the strongest teams was Johnny and Irina, who put together a beaded racerback tank with a light sweater and flowing skirt that guest judge and former OC star Rachel Bilson said she'd wear in a heartbeat. But it was the unlikely team of Mitchell and Ra'mon who wowed hard-to-impress Nina Garcia with their ocean-inspired dress and lime neoprene avant garde dress.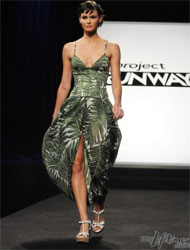 The problem for Mitchell, though, was that he let Ra'mon do all the work. Gotcha! So, he battled it out with Qristyl and Epperson, who fought constantly for control. Q. threw E. under the proverbial bus when it came time to judge their palm-frond dress (above), but Mitchell got the three-strikes penalty from Heidi.
Straight from the mouths of surfer girls to designers' ears, California style is inspired by comfort and colors of the beach. Like Johnny and Irina's fave beaded tank, the Madison Marcus "Cascade" Beaded Ivory Top ($238) is delicate and functional at the same time. Even better, the classic racerback shows off sunkissed shoulders. Pair with a soft, fluid topper like this cashmere Velvet Electra Sweater ($297), for chilly fall nights. And if you've never tried anything from Velvet, the sheer softness of the clothes lives up to the name.
Did we mention the colors? The most successful thing about Ra'mon's avant garde dress was the shocking green. These pretty Sutra Green Onyx Leaf Cluster Earrings ($200), made with sterling silver, yellow gold vermeil and gree onyx, add a little sand-and-sea sparkle to any outfit–without the neoprene.
Whether you need more fancy tanks or cardigans, we've got you covered with evening tops for jeans and our guide to the best cardigans out there.  And in case you need to catch up on Project Runway coverage, don't forget to take a look at what happened last week.