My, Project Runway, how we missed you. The fashion original gets a new city (Los Angeles) and a new channel (Lifetime), but everything else is just how we left it. Heidi, Tim, Nina and Michael are back to judge 16 new designers, each with their own quirky style and POV (of course).
The first challenge: Inspired by the upcoming Emmy Awards at the Nokia Theater where "it's as much about what you're wearing as who you are," designers had create a red carpet look that expressed true innovation and their point of view as designers.
And who better to help judge than sometime red-carpet ingenue Lindsay Lohan, who actually put sentences together that were helpful at the judging pow-wow.
Johnny S., a former meth addict, had a breakdown within the first three hours over the pressure. But thankfully, Tim Gunn stepped in and talked him down and into designing a flowing, calf-length dress that would've been better in black than red. Make It Work cures all!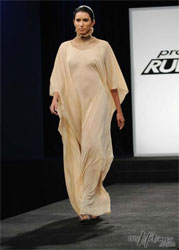 Mitchell judged wrong with his model's sizing and only had a collar for his Victorian-style dress with four hours remaining. So what did he do? A completely unwearable transparent "nightgown." However, he was saved by Ari, the resident space case, who had Tim worried her dress might look like a halter diaper.
On the runway, Michael K said it looked like a disco soccer ball. In the end, her design was too out there.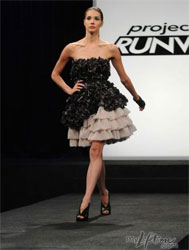 Christopher designed an edgy and pretty cocktail-length dress – rock-and-roll on top of girly. Even Lindsay said she'd wear it, though she'd lose a few of the ruffles.
And, we have our winner.
This Alice + Olivia Ballerina Strapless Dress with Belt ($495) captures a few of Christopher's winning elements. The two-tone color palette makes it interesting, as does the fullness of the shape, which is achieved here by a bit of tulle.