Get ready, because there are going to be a lot of Lady Gagas running around this October 31st. Luckily, Ms. Gaga has made enough memorable wardrobe choices to give you some outfits to choose from. My favorite: the red face-covering ensemble from the VMAs. I almost just said that this was my favorite because it was the most Halloween-y thing she wore to that show, but that isn't even true. Remember the bloody performance of Paparazzi?
To recreate her famous acceptance-speech look, you really only need a few things.
1. A blond wig ($20).
2. I'm sure you already have red briefs and a nude bra in your closet to wear under the sheer lace. But, if this were me, I'd probably feel a little less nude if I knew I was being covered with a swim suit bottom instead of some flimsy cotton thing. This geranium-colored High Tide Shirred Bottom can handle full coverage ($25).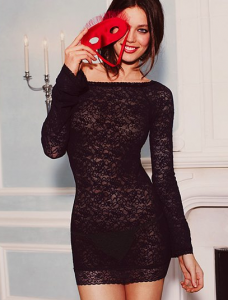 3. Lacy lingerie ($38). Yes, it comes in red.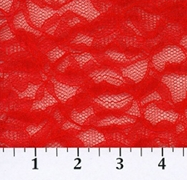 4. A whole lot of extra red lace from Joann Fabrics ($8/yard). If you're the crafty type you could skip the lingerie above and make the whole dress yourself. If not, well, you still have to figure out how to make a lace face mask and crown on your own. I can't do all the work. Good luck.
In case you're trying to incorporate the tamer aspects of Lady Gag's style into your daily wardrobe, take a look at over-the-knee boots, cocktail dresses, and sexy bras.