Good news! You can now toss that giant, unwieldy binder of magazine clippings. By now you've probably heard of the magic that is Pinterest (don't forget to follow us!) but did you know there's a content aggregating website that is just for weddings?
Introducing Lover.ly — which allows you to search and save images that tickle your fancy — from pretty cakes to wedding up do's. If you're knee-deep in scrapbooks, you need to check out these 4 new sites:
This brand new site functions as a central hub for the wedding blogosphere – it gets all of its content directly from wedding blogs, and every pic come properly tagged with any relevant business info. So if you stumble upon your new favorite wedding photographer, you can book them in a hurry. Lover.ly functions as both your virtual wedding bulletin board and daily wedding blog digest.
In our opinion, Pinterest is the most fun a gal can have on the internet. Follow your favorite tastemakers, "pin"  your favorite wedding products and inspiration photo, and keep everything neatly organized in labeled folders. Pinterest is easy to use, and delightful to peruse – it's a real time pinboard for everything lovely on the interweb. From endless cake inspiration, to the latest runway gowns and mouth-watering recipes, Pinterest is a fabulous source of inspiration for brides.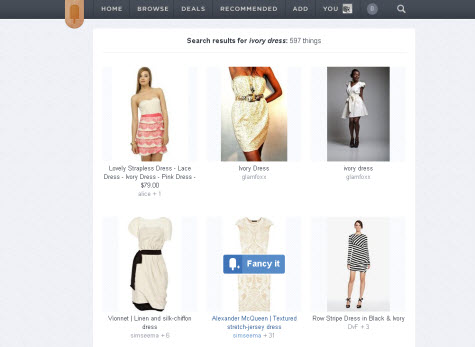 Fancy is the least wedding-oriented of the lot, but it's certainly worth a look if you love modern design and high style. Unlike Pinterest, Fancy does the filing for you – with a diverse range of categories to browse through, like Art, Media, Pets, and Food. As you "fancy" things, you create your own "catalog" – how fun!
This site is so new, they're still in beta-testing mode – but we got a sneak peek under the hood and we like what we see. It operates like Pinterest lite – except you "stash" things instead of "pin" them. Hitch'd has a mercifully simple set-up that allows you to plan your wedding by meticulously arranging your apparel, accessory, and decor picks in neat little folders. As more brides continue to "stash" their fave finds, this site will only get better.
Start your inspiration journey here: shop our guides to the best designer wedding shoes, customized wedding favors, and simple wedding dresses.