Rachel Bilson is one of those young celebrities who can do no wrong when it comes to fashion and trying new trends (even clogs), so when she stepped out in leather shorts, a floral top, and slouchy open toe booties we weren't surprised that she she nailed the look. What did surprise us was how much we wanted to try the look ourselves for fall parties and events. Check out the breakdown here:
Start with a flowy, cream-colored floral top like this Tucker Floral-print silk-blend blouse ($380). You can also pair it with skinny jeans and flat camel boots all fall.
For something even girlier, go with this Aryn K pink floral silk drawstring sleeve blouse ($60, down from $86). The silk buttons and cool ruching detail give this top a vintage feel.
If you're bold, try the hot fall trend of leather shorts like Rachel did. These Blank Denim Leather Shorts ($104) are an easy way to try the trend without breaking the bank.
For a flattering shorts style, choose one with flares like these Juicy Couture perforated leather shorts ($348). The A-line, flared silhouette makes any thigh look thinner.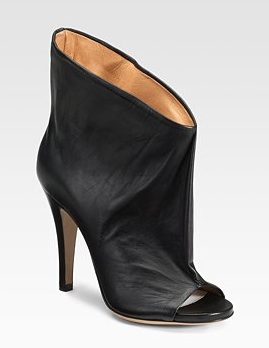 To get Rachel's exact bootie, grab a pair of these so-hot-right-now Maison Martin Margiela open-toe ankle boots ($845). They are like shoe porn – so sexy.
Check out more celebrity approved fall trends, like over the knee boots, boots under $100 and celebrity handbags.
Follow the author of this post on Twitter @bridefinds.