Rachel Zoe and Ranjana Khan—both no strangers to the Bravo Network—have both made their jewelry available at Charm & Chain. Khan—wife of designer Naeem Khan and friend of Real Housewife Carole Radziwill—also premiered an exclusive, super glam Mirror Deco Necklace ($430) strictly for the site. A celebrity stylist and the star of The Zoe Project, Zoe first released a clothing line last year, and premiered her Art Deco-inspired jewelry collection last August. Both designers had previously only sold their jewelry through a small number of retailers.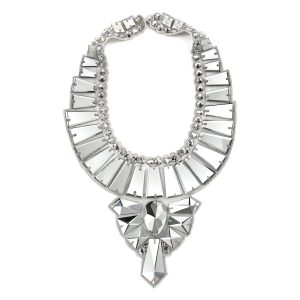 Ranjana Khan Mirror Deco Necklace ($430)
Click through to check out Ranjana Khan and Rachel Zoe's collections now available on the site.
Want to shop more jewelry online? Try out the Pinterest-popular infinity jewelry trend, shop back necklaces and DANNIJO's cocktail jewelry at Bergdorf.