Who ever thought we'd be clamoring for bags from… QVC? Well, apparently everything Rachel Zoe touches turns to retail gold, because we are loving/living for her Rachel Zoe for QVC. Merry Christmas! These rich leather and suede handbags are half off today.
The perfect every day bag (or the chicest laptop bag you've ever seen) is this Rachel Zoe Leather Medium Flap Crossbody Satchel ($99.78, down from $222), marked down over 55%. If you're in a fringe mood, this Rachel Zoe Pebble Leather Flap Front Handbag w/Fringe Detail ($179.88, down from $261) can be worn as a cross-body or shoulder bag. Versatility at its best!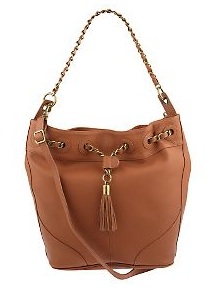 This Rachel Zoe Leather Drawstring Bucket Bag with Removable Strap ($67.10, down from $139.50) is incredibly versatile, and half off. You will love the fringe detail.