If you haven't joined the Rails plaid shirt tribe, there is no better time than now. Besides the fact that plaid is going to be huge (again) this fall, Selena Gomez recently wore Rails' super cool Jackie mixed plaid button-down shirt ($128) with her ripped daily dukes while running errands in Hollywood.
Unfortunately, Selena's exact top already sold out, but we did find another mixed plaid top by the same brand. Our only advice is to buy yours ASAP if you like it. These babies sell fast.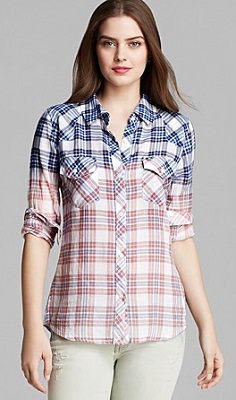 Rails Mixed Plaid Shirt ($128)
Don't miss out on Alexa Chung's Burberry Dress, Cara Delevingne's cool tee, Kourtney Kardashian's trench coat and Jessica Alba's leather pants.
[Photo: Splash News]