We recently sat down with designer Rebecca Taylor to discuss her new outerwear expansion, of which our editors are entirely obsessed (can we talk about the cocoon coat with the blue shearling collar!?!). The designer dished on her bestselling moto jacket, her inspiration for the new styles, and some super-helfpul advice for the SHEfinds reader on choosing her new coat for fall. Thank you, Rebecca! Read it now:
SHEfinds: Your leather moto jacket is so cult! Tell us about it. 
Rebecca Taylor: Our leather jacket is garment washed, which really offers the customer the softest supple leather, and it's lined with jersey making it extremely comfortable.
SF: Is the popularity of the moto one of the reasons you decided to expand your outerwear collection?
RT: I've always had outerwear in my collections, but this season I really wanted to expand our outerwear and offer the Rebecca Taylor girl a coat or jacket for every occasion.
SF: What is the inspiration for the new styles?
RT: The collection was created with a focus on luxury and function. I wanted each piece to marry modern femininity with comfort and offer unique cuts and silhouettes in unexpected colorways.
SF: What should a woman look for when choosing a new coat for fall?
RT: I would say having a coat that keeps you warm is the most important thing. It's also important to think about the layers you'll be wearing underneath your coat–make sure there's enough room if you plan to wear chunky knits. In a lot of areas, the winter season can feel like a very long time. A coat is a staple piece that carries you through the season–you need something that's going to last.
SF: What details are you loving for outerwear this season?
RT: I'm really loving unique embroideries, beautiful embellishments, and faux fur details.
SF: What style details should a woman look for when shopping for a coat this season?
RT: I think it's important for a woman to feel special and confident in whatever she wears. Make sure it's something you'll love to wear again and again.
SF: Do you believe in investing in a good coat, opting for trendier lower-prices ones, or a mix of both?
RT: I do think it's important to invest in a good quality coat but I think you can also enjoy trendier lower-price pieces as well. It's great to have a mix of both- your good coat is your go-to for every day wear while trendier ones can be worn for special occasions when you want to feel a bit more dressed up.
SF: Your faux fur looks and feels amazing! What is the secret?!
RT: For our faux furs, I shave off the seam allowance in order to cut out any bulk. This really allows the fur to feel elevated and luxurious.
Melton Faux Fur Coat ($795)
Icicle Cocoon Coat ($795)
Boucle Moto Jacket ($495)
Wool Shearling Cocoon Winter Coat ($895)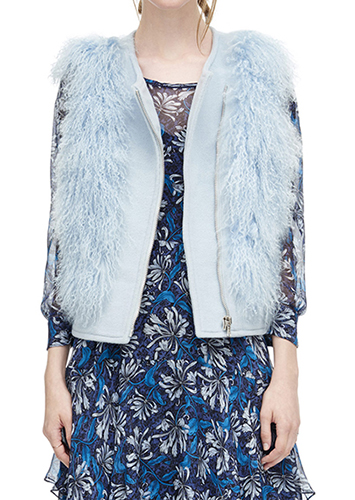 Shearling Vest ($995)
Polar Faux Fur Vest ($550)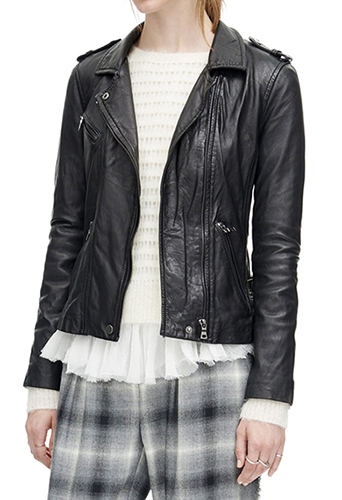 Washed Leather Moto Jacket ($895)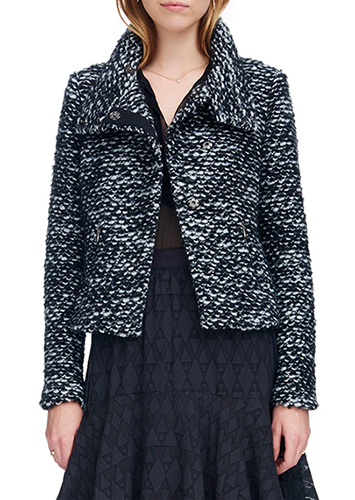 Amsterdam Tweed Jacket ( $595)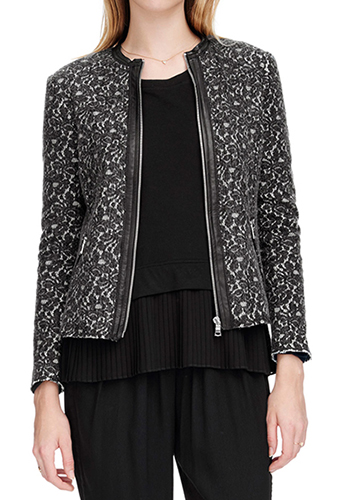 Lace Bonded Jacket ($475)
Patch Faux Fur Vest ( $595)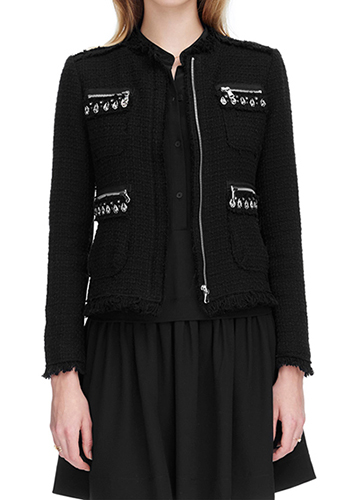 Embellished Tweed Jacket ($550)
Metallic Leather Moto Jacket ($995)
Faux Merino Moto Jacket ($695)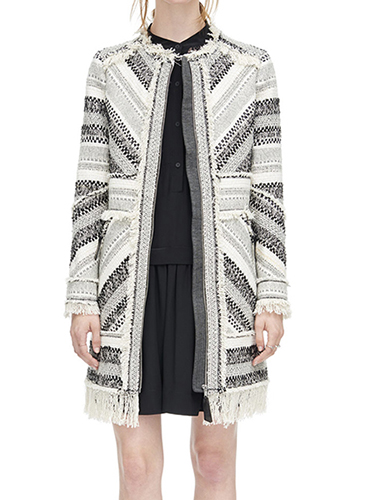 Artisan Tweed Fringe Coat ($650)