All too often celebs take what could have been a fabulous red carpet ensemble, and turn it into a fashion nightmare. In Red Carpet Re-Do, we take celeb style slip-ups and show you how to make it work.  Michelle Williams exhibited a classic fashion mistake front row at Monday's Tracy Reese show: trend overload.  Long gloves, opaque tights, cropped jacket… we feel exhausted just looking at her.  On top of all that, her hair looks electrocuted, but that's another story.  Here's how Kelly went wrong and how to save this floral dress look  from making it onto the worst dressed lists again.
What She Did Wrong:
Floral spring dress with winter leather gloves is a clash of the seasons
Long gloves were all over this weeks' runways, but just because it's in style doesn't mean it always works
Cropped sleeves jacket + long gloves = awkward exposed elbow skin
Gigantic hoop earrings are doing nothing for her with that gigantic pile of hair
Cream jacket with a colorful dress, plus black tights and black shoes simply do not match
What She Should Have Done (aka less is more):
Mix and match a flower print dress with a black wool jacket
Floral dresses are super cute, but can seem a little unseasonable in the winter with a thin cream jacket.  Instead wear a springy dress like this one by XOXO ($49.99) with a cropped black wool jacket, like this one by Bi La Li ($230.65), for a more February-friendly ensemble.
Trade in oversized hoops for a trendy purse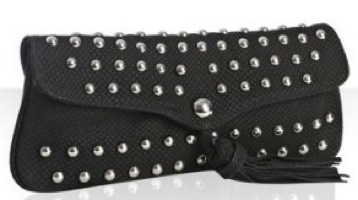 This studded purse by Hype ($76.50) creates a chic combination juxtaposed next to the flowers on the dress.  Studs are an unexpected addition to a feminine strapless frock.
Hold onto Michelle's black opaque tights and black patent pumps
Pairing all black tights with all black heels make your legs look super long.  Best of all, you'll be able to use these versatile pumps by Steve Madden ($74.01) and these black opaque tights by Banana Republic ($15) for any number of different occasions.
For more floral looks check out our guide to summer dresses and pair them with some heels from our guide to platform shoes.  Get all the best deals going on now with our list of this week's online sample sales.