And why do you care? Because A-listers like Kourtney Kardashian and now Reese Witherspoon have blessed this as THE shirt of shirts. Move over, equipment. Reese wore a Rails Kendra in Pink Pastel ($128) which is perfect for your pastel spring palette. Plus, it is a fresh look on the plaid print. We know you cannot resist a 'perfect' spring shirt – tink cut-off denim shorts, white jeans, any denim really or take a cue from Reese and layer over a graphic tee (she is so trendy these days).  Hurry up before ALL the sizes are scooped up!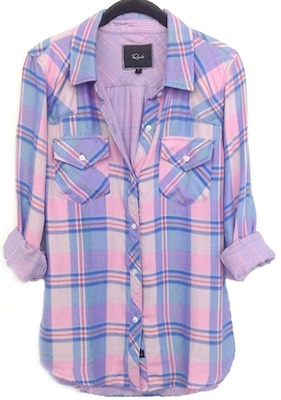 Rails Kendra in Pink Pastel ($128)
Can't fit an extra small? Score Reese's shirt in other sizes here.
Don't forget to shop Taylor Swift's sunglasses, s Emmy Rossum's $51 dress and Jennifer Garner's rag + bone boots.
[Photo: Splash News]