We all resolve to stress less, lose weight and become generally more awesome in the New Year, but beyond making a mental note, on January 15th or so, we're right back at square one. Sigh. But we don't want you to fail. We want you to get healthy, get skinny, and everything else your little heart desires. Here are 10 products that make resolutions easier than ever:
Your Mind:
We know you've been meaning to get into yoga for years, so why not finally do it with this Gaiam Yoga Beginner's Yoga Kit ($29.99). The package includes an alignment mat, a yoga brick that makes positioning easier, a yoga strap for stretching and an instructional DVD. Ohmm.
Your Body: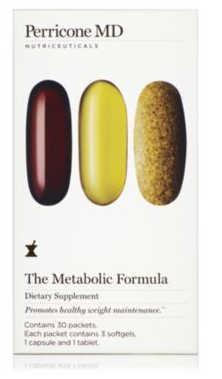 If you want to kick start your metabolism, this Perricone MD Metabolic Formula ($75.00) is a 10-day supplement program that promotes metabolic activity and converts fat into energy.
Your Love Life:
If the old bar scene isn't working out for you, this year may be the year to try Matchmaker.com ($24.95 for one month). What's the worst that could happen? (p.s. Please head over to BRIDEfinds.com if it does work out.) If you're looking for a light read, Make Every Man Want You by Marie Forleo ($11.53, down from $16.95) is a  crash course in desirability.
Your Closet:
There is no wrong way to start you personal makeover. This include organizing that untamed closet. Make all your favorite shoes visible with this over-the-door shoe organizer from Whitmor ($14.99). Ditto for your lipsticks; this Richards Homewares Cosmetic Organizer ($56.99) will hold everything from Chapstick to cheap perfume.
Your Looks:
The easiest way to make over your face is by whitening those not-so-pearly0whites of yours, with this Go SMiLE Smile Whitening Light System ($169). The sonic frequency in the Clarisonic Mia Skin Cleansing System ($149) cleans pores and skin surface. It's like hitting the re-set button for your skin.
So you've resolved to shop a bit more? (Hey, why not!) Check out more of the best sales and deals, our favorite best find of the day picks, and scan our calendar of online sample sales.