I'm sure that most of us woman can agree that bralettes were one of the best inventions ever. Am I right?! To still get coverage and support without underwires poking you in the sides, what more could you ask for?
Since bralettes are pretty much the only thing I wear now (guilty!), I am always on the hunt for ones that give my girls support but also makes it look like I am actually wearing a real bra. My latest obsession? Richer Poorer's new Cut Out Bralette.
These bralettes are not only the softest and most comfortable thing in the world, but they also have adjustable straps so you can get the perfect fit and make you forget that you're wearing one!
And not only are they comfortable but they are also super cute, too. The cutout details make it the perfect style to wear under a sheer tee because you'll definitely want to show it off.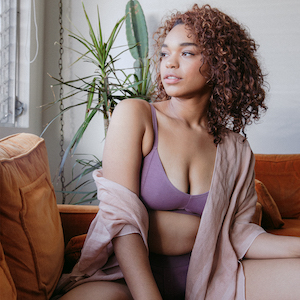 Richer Poorer Cut Out Bralette $28
If this launch is anything like their first bralette, they are going to sell out fast. So if you want to get your hands on one, we recommend picking one up ASAP.