Rihanna was just honored as the "Queen of the Halloween Carnival," wearing a rather an all-black outfit that just might bump your go-to LBD (little black dress) from it's coveted Friday night spot The top, skirt and booties look is chic and understated, which may be RiRi's way of flying under the radar amidst rumors of recording with Chris Brown. The "Diamonds" singer paired her The Row Ribbed Dartford Top ($450) with a Dolce & Gabbana lace panel skirt, and Azzedine Alaia built in platform shoe boots ($1,230). The booties have also been seen on Victoria Beckham, another reason to splurge on the hot-ticket item:
The Row Ribbed Dartford Top ($450)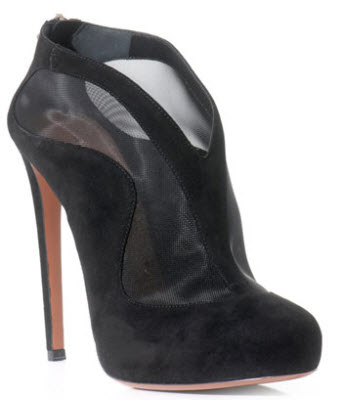 Azzedine Alaia Built In Platform Shoe Boots ($1,230)
[Photo Credit: Splash News]
Shop more celebrity style such as Alessandra Ambrosio's handbag, Emma Stone's collegiate look and Emma Roberts's laid-back ensemble.