We just love it when celebs give back to charity, and our girl, Ri Ri, is no exception. So when we found out that Rihanna's second MAC Viva Glam collection is coming out next month, we were pretty darn excited. But while we expected shades of red like her first Glam collex (which makes sense since every penny of the proceeds will benefit men, women and children affected by HIV/AIDS), we got the opposite.
This time around, Rihanna and MAC decided to switch it up, but don't let the ads fool you. MAC and Ri lovers will not be walking around wearing bright green lipstick. (Thank goodness!) Instead, the duo opted for frosted mauve lipsticks and lipglass. Yes, Rihanna just brought frosty metallic lipstick back from the 90's and made it cool again. What can't this girl do? Oh and don't worry, if you're more of a traditional red lip kind of gal like T.Swift, the old hues will be available again too.
The entire collab will hit MAC's online store on September 8 and brick and mortar stores on September 11th. So check back next month, we'll have more deets and products for you to shop. Remember, it's for a great cause!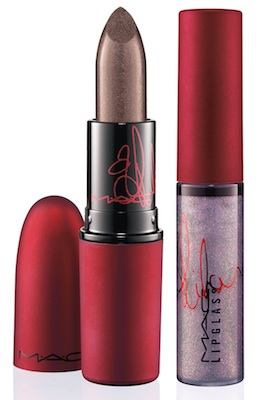 Viva Glam Rihanna II Lipstick 'Warm Mauve With Silver Frost' ($16)
Viva Glam Rihanna II Lipglass 'Cool Mauve With Red Frost' ($15)
While you're waiting for Viva Glam II to drop, shop for more MAC products, here.
And don't forget to check out: National Underwear Day, the Bachelor In Paradise recap and fall jackets on sale.
[Photo: MAC]