There's no better feeling than strutting your tall, skinny legs. But we understand that not all of us have the height or the thighs to do so. Enter over the knee boots. These boots elongate your legs, with or without a heel, and can add that formal finishing touch to literally EVERY outfit. So don't say you're too short or too anything to pull these babies off. In fact, here's two great ways to wear this hot trend:
Heeled Over The Knee Boots – That Extra Stylish Umph(!)
Over the knee boots aren't only perfect for a casual outfit, but they pull together the ultimate night out look. A sleek pair of leather boots – try on these Report Kenly Over The Knee Boots ($100), will also help you elongate your legs in a matter of seconds. Instead of regular skinny jeans, opt for some jeggings. The stretch in these Paige Jeggings ($158) hugs your body like leggings, but gives the appearance of jeans.
A pretty sequin top, such as this Parker Sequin Tank ($110), looks great whether you're going out with your girlfriends or on a hot date. Throw on this By Malene Birger Twill Boyfriend Blazer ($177, down $590) over and you're ready to go out the door. And at that price, who can resist?
Flat Over The Knee Boots – An Everyday Staple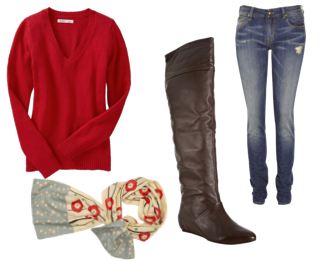 Everyone loves a go to outfit – one they can wear to shop, to lunch, to a family event, to pretty much anywhere. So start off with a pair of basic over the knee boots, like these Pour La Victoire Covered Wedge Over The Knee Boots ($237, down from $395). They even add a few inches without anyone noticing. Pair it with a light shade of skinny jeans – we're digging these R13 Mid-Ride Skinny Jeans ($105, down from $300) with the higher rise to hold everything in.
This Old Navy Basic V-Neck Sweater ($15), in any of the 11 colors, is comfy, casual, and like VISA – accepted everywhere. Tie a cute printed scarf around your neck, like this Haiku Scarf in Pretty Poppy ($25), and you're all set. Spend the extra time finding more things in your closet to go with your new boots.
Try out more fall trends with all of our How To Wear posts. Shop our guides to the best thigh high boots, the best foldover boots, and the best skinny jeans. Subscribe to SHEFindsMail for exclusive fashion e-mails.