We've figured out all the best options for different kinds of necessary bras, so what happened to Jessica Simpson won't happen to you.
FocusOnStyle gives everyone a look at affordable fashion trends for fall with an H & M style video.
With Karma Kraft, Girlawhirl learned how to be her own textile designer.
The StyleBakery editors share 100 things they're loving this summer.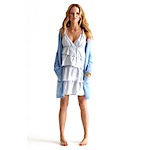 Real Simple's Simply Stated keeps you from having a bike accident by showing you how to keep your hair off your face.
SmarterFashion shows you how to pick the best maxi dress for your body.
The Beauty Brains explain why Moroccan oil is good for hair and skin.