Following the cult craze over the 'Ruffian Manicure' – the chrome gold half-moon press on nails that debuted in the Spring 2012 Ruffian x MAC collection – the New York designers are set to launch their first polish collection. This time, they've teamed up with BirchBox on a 3-piece line that will deliver to BirchBox members this fall.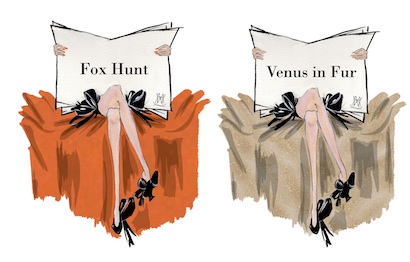 Ruffian x BirchBox colors Fox Hunt and Venus In Fur
Launching in September, the polish colors will match their Spring 2014 collection (talk about forward-thinking). But wait–there's more. Ruffian just debuted 5 color options – Delirium, Fox Hunt, Hedge Fund, Lady Alabaster and Venus In Fur – which BirchBox Facebook fans can vote on starting Wednesday. The 3 polishes with the most votes will make the final cut. Vote tomorrow and stay tuned for the results at the next New York Fashion Week!
The Ruffian Manicure from Ruffian x MAC Summer 2012
For more beauty news, check out the beauty commandment you're probably breaking, and the first photos of Giorgio Armani's nail polish line, Marc Jacob's nail polish line and Burberry's nail polish line. Phew, big week!