Project Runway got straight down to business in Episode 2. The designers had a celebrity client to design for: supermodel and actress Rebecca Romijn, who is pregnant with twins.  Curveball!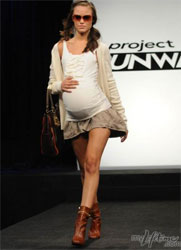 Remember Mitchell from last week? He of the see-through dress with the great collar? As one of the few designers that had actually created maternity wear before, he decided to create a separates outfit with shorts, a t-shirt and sweater.
Great concept, bad execution (that almost sent him home).
Malvin, the conceptual ingenue, tried to create a mother hen-inspired outfit, complete with oatmeal sling and feather top. It wasn't a bad idea, but as Nina pointed out, slings are usually reserved for after the baby is born. It was just slightly worse than Ra'Mon-Lawrence's "bowling ball bag" formal dress, which practically screamed, I'm pregnant!
Thus, we said good-bye to Marvin.
Among the judges' favorites was Althea's jersey dress with the slimming criss-cross straps in back. However, her design was overshadowed by Shirin's winning burgundy casual dress and coat. It both celebrated pregnancy curves without looking obvious.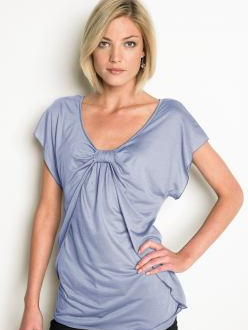 While we're not going to recommend a maternity dress for fall (unless you plan on seeking out one of those stomach pillows from the workroom), we do love this blousy flutter-sleeve tunic ($40) that looks great belted now, or flowy and loose if a little surprise comes your way in the future.
Check out MomFinds for mom and kid finds, and catch up on recent Project Runway recaps to prep for the rest of the season.