For every big hit in fashion, like 2011's Miu Miu glitter bootie, there are 10 misses (and 1,000 knock-offs). So can you really blame Saint Laurent for trying to make lightening strike twice and releasing a similar glitter shoe for fall 2014? No, you can't.
The brand's creative director Hedi Slimane sent an army of glitter boots and booties down the runway this March, the first styles of which are hitting stores now–just in time for September fashion weeks, where It shoes are made. These booties are the ultimate blogger bait: flashy, street style photo-ready ("Hey, look at me, Mr. Oliveira!") and over $1,000. So, yes, you will be seeing them in your Instagram feed very soon.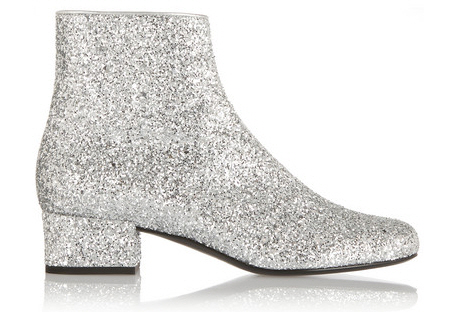 Saint Laurent Glitter-finished ankle boots ($1,145)
We're only half teasing–Hedi Slimane's version is much more 1960s/mod than the Miu Miu open toe version, and it's not like the glitter bootie hasn't been done before–so it's not a completely novel or copyrighted idea. I'm just a little surprised that it's happening so soon after the Miu Mius. The question is–will editors have room in their closets for another pair? Will you wear them (or the knock-offs)? Leave a comment.